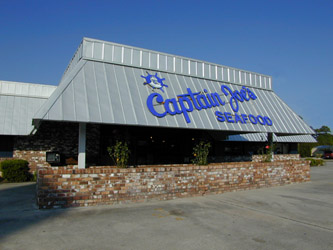 Captain Joe's Brunswick
I-95 & Highway 341 - Brunswick, Georgia
(912) 264-8771
With five convenient locations throughout South Georgia, Captain Joe's Seafood Restaurant can't be too far. Come on by for lunch, or dinner, and treat yourself to some of the finest fresh seafood that Southern Georgia has to offer.
PRICES VARY BY LOCATION.
Captain Joe's Jesup
2686 Savannah Hwy. - Jesup, Georgia
(912) 427-7729
Captain Joe's Waycross
2010 Plant Avenue - Waycross, Georgia
(912) 283-2144
Captain Joe's Baxley
508 Golden Isles East - Baxley, Georgia
(912) 367-7795
Captain Joe's Midway
Highway 17 South - Midway, Georgia
(912) 884-5118